What an interesting journey! I've always felt like I was somewhat of a computer savy person until today! Setting up the blog was a snap but getting everything in order has really kicked my bootie but I finally got it! So here I am! I will mainly be using this to be my online scrapbook. I also want to post pictures of the kids on here to update friends and family of what's going on in the Kidd household. I hope everyone enjoys this as much I am! To get this kicked off I wanted to post a little quiz to find out which princess I am most like. Don't know too much about this character but I'm off to find out! Until next time!
You Are Esmerelda!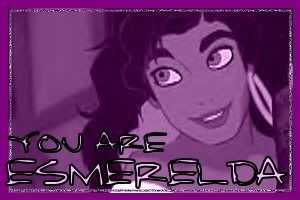 Mysterious and passionate. You are a survivor. Even though life has swung you some difficult situations you have a strong intuition that gets you through. Also, you have the capacity to sympathize and relate to a variety of different people.
Which Disney Princess Are You?